I lost 10 Sizes
Candice Titus is a member of Baltimore Martial Arts & Fitness. She posted this to Facebook on August 11th, 2013.
This is embarrassing to say but I can't believe I have lost 10 sizes. I owe it all to Baltimore Martial Arts Academy and the amazing people I have met there. I don't think you could find a better group of people if you tried. Originally I signed up to try 3 classes and got hooked. This has been a life changing experience and I am excited to continue with it.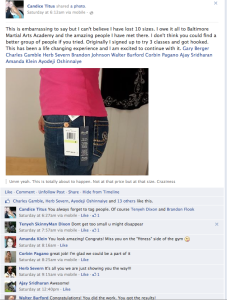 There are countless others with stories just like Candice's. Baltimore Martial Arts & Fitness has been helping people lose weight, learn self defense, make new friends and to improve their lives since since 1995. No matter how bad a shape your in we are here to help you get fit and healthy. Give us a call and mention our FREE 30 Day Trial.
Baltimore Martial Arts Academy 6565 Baltimore National Pike, Catonsville, MD 21228
Looking for a map
? Walk in M-F, 4:30-9PM Saturday, 8:30AM – 12:30PM & Sunday 2-4PM Visit our You Tube Channel
{Baltimore Martial Arts You Tube}
. Email us at:
[email protected]