Gary Berger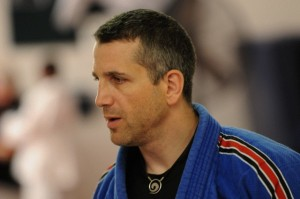 Gary Berger, Owner & Head Instructor
Sensei Gary Berger+ graduated cum laude from Towson State University with degrees in Biology, Psychology and Animal Behavior. Mr. Berger abandoned a future in science to pursue his true passion: the martial arts. He and his wife, Danyelle Berger, jointly own the Baltimore Martial Arts Academy.
Having studying martial arts since age 4, Mr. Berger is now an internationally recognized instructor and competitor in the martial arts. In 1993 he won a gold medal in the U.S. National Kuoshu Championships, a full-contact contest. In 1994 he was a member of the U.S. Kung Fu team and won a silver medal in the European Kuoshu Internationals. Mr. Berger has also medaled in several championships in Judo and Brazilian Jiu-Jitsu and won his division and open class division in Brazilian Jiu Jitsu at the IBJJF Miami BJJ Open in October 2013.
Gary Berger is a 2nd degree Brazilian Jiu-Jitsu Black Belt under Denilson Pimenta (GFT 4th Degree Black Belt). Mr Berger is also a Black Belt in Tien Shan Pai Kung Fu and a second degree brown belt in Kodokan Judo. He has trained and studied other martial arts styles including Tae Kwon Do, Arnis, Tai Chi, Muay Thai and Mixed Martial Arts.
Over the years Mr. Berger has pioneered and developed a karate course that offers a unique approach to teaching martial arts to physically or mentally challenged children. His work in this field has led to coverage in several publications and television shows. Sensei Berger also served as a martial-arts technical adviser for the award-winning, Baltimore-based television series Homicide. Mr. Berger's greatest talent is his structured style of teaching, which makes learning easy, safe, and enjoyable.
Gary Berger on TV with "UP to the Challenge – Patrice Harriss"
Gary Berger – TV Episode with Toni Pegnati – Early 90's
Gary Berger – Kuohu Full Contact Prior to MMA – England late 80's