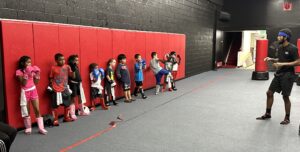 Kids Muay Thai
Welcome to the Baltimore Martial Arts Academy in Catonsville, Maryland, where we're excited to introduce our dynamic and engaging Children's Muay Thai class! At our academy, we understand the importance of fostering physical fitness, discipline, and confidence in children from a young age. Our Children's Muay Thai class is designed to provide a safe and fun environment for kids to learn the ancient art of Muay Thai while developing essential life skills. Muay Thai, often referred to as the "Art of Eight Limbs," is a martial art that incorporates punches, kicks, elbows, and knee strikes. In our Children's Muay Thai class, your child will not only learn the fundamentals of this exciting martial art but also gain valuable lessons in respect, focus, and self-control. Here's what your child can expect from our program:
Expert Instruction: Our highly trained and experienced instructors are dedicated to teaching Muay Thai in a way that is both educational and enjoyable. They'll guide your child through each technique, ensuring proper form and safety.
Physical Fitness: Muay Thai is an excellent way for kids to stay active and build strength, agility, and endurance. Through fun and challenging drills, your child will improve their overall fitness.
Self-Confidence: As your child progresses in Muay Thai, they'll gain confidence in their abilities and learn the importance of setting and achieving goals. This newfound confidence will extend beyond the gym and into everyday life.
Respect and Discipline: We emphasize the values of respect, discipline, and sportsmanship in our classes. Your child will learn to respect their instructors, peers, and themselves, creating a positive and respectful attitude.
Safety First: Safety is our top priority. We provide a controlled environment where children can learn and practice Muay Thai techniques with the utmost care and supervision.
Team Building: Our classes encourage teamwork and camaraderie among students. Your child will develop lasting friendships while working together towards common goals.
Fun and Enjoyment: We believe that learning should be fun! Your child will have a blast while learning Muay Thai and building valuable life skills.
Whether your child is interested in self-defense, physical fitness, or simply having a great time with friends, our Children's Muay Thai class at Baltimore Martial Arts Academy is the perfect choice. Give your child the opportunity to experience the many benefits of Muay Thai in a welcoming and supportive environment. Join us today and watch your child grow, learn, and thrive in our Children's Muay Thai program! Enroll now to secure their spot in a class that will set them on a path to success both inside and outside the gym.