Catonsville, Maryland Kickboxing Classes at Baltimore Martial Arts and Fitness.
Our kickboxing classes are fun, fast paced and most importantly effective! We have had students lose upwards of 60 pounds just doing kickboxing.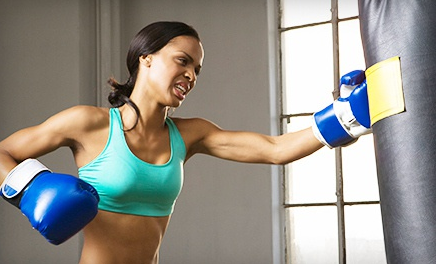 Our kickboxing classes are a non-competitive version of Kick Boxing which incorporates kicking and punching on focus mitts, kick shields & heavy bags.
Kickboxing classes provide an intense aerobic workout and also teach basic self-defense skills.
Our kickboxing classes also incorporate other methods for developing fitness (e.g. core strength, stability & balance training, plyometrics, agility drills, cardiovascular exercises and more).
Class is self paced so that you can progress as your own pace in a fun and enjoyable atmosphere that is enriched with nice people and awesome music.
All kick boxing classes are taught by experienced martial arts instructors who are trained to help motivate and help you to reach your true fitness potential.
If you live in either Catonsville, Baltimore, Ellicott City, Elkridge, Columbia or Pikesville,…you are close enough to come train with us!
Special Offer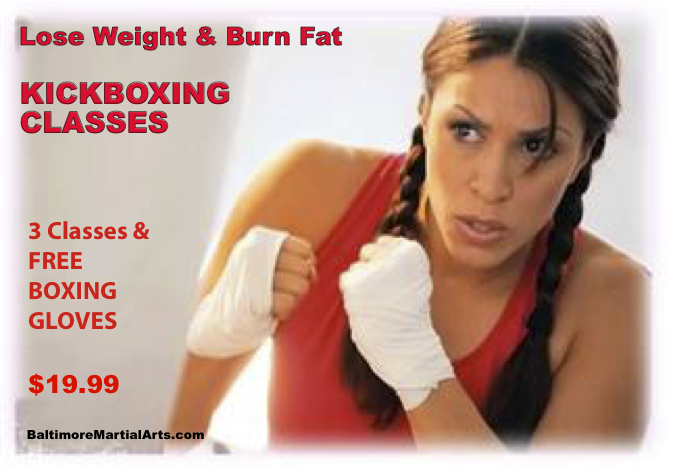 Try three kickboxing classes and also receive a FREE pair of boxing gloves for only $19 Simply click the picture to the left to register. This is a great way to sample our kickboxing program and to see what other fitness and martial arts classes that Baltimore Martial Arts in Catonsville has to offer.
Please use our KICKBOXING ONLINE SCHEDULER for booking your appointments. Please only schedule a maximum of TWO appointments in our system at one time. Appointments made above this limit will be deleted and you could lose your spot in class.
Check out what these two women kickboxers have to say about our Kick Boxing classes at Baltimore Martial Arts & Fitness.
Veronica and Shannon, two young women kickboxers, tell us how kickboxing classes at Baltimore Martial Arts has toned them up and was one of the best decisions that they ever made.
Many of our kickboxing members take a variety of fitness classes besides kickboxing. Some of our other fitness programs include Yoga, Pilates, Boot Camp, Personal Training, Fast Burn 30 and more.
Benefits of Taking Kickboxing Classes:
Fat Loss – Boost your metabolism and become a fat burning lean machine!
Muscle Toning for longer, leaner and toned muscles.
Increased Endurance and Stamina so that you can keep up with your hectic life style.
Improved Flexibility and Body Coordination helps your body to operate at peak efficiency and helps reduce injuries.
Rebuild Confidence – Others will notice the changes in you immediately.
Reduce Stress – What's better than kicking and punching stress and frustration away.
Fun – Kickboxing is more fun than working out alone at the gym or working with a personal trainer. Kickboxing is hands down the best way to lose weight, and get in great shape while also having fun.
Watch the above video of one of our Kickboxing Classes in Catonsville