Learn Capoeira at Baltimore Martial Arts Academy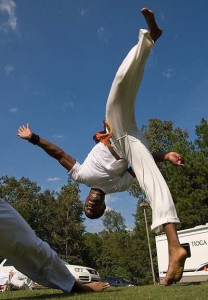 Capoeira classes for Children and Adults are now offered at Baltimore Martial Arts in Catonsville, Maryland.
FREE 30 Day Trial.... No Obligations... Call 410-465-7799 to Schedule
Capoeira Schedule:
Copoeira Children's Classes - Tuesdays & Thursdays 5-6PM - First class begins October 27th, 2015
Capoeira Adult Classes - Tuesdays & Thursdays 6-7:30PM
Capoeira is the Afro-Brazilian martial art that takes its roots during the colonial era of Brazil. Capoeira combines music, dance, acrobatics, play and martial elements into a dynamic ritual fight. The details of capoeira's origins and early history are still a matter of debate among historians, but it is clear that African slaves played a crucial role in the development of the art form. Capoeira differs from other Martial Arts because of the strong African and Brazilian components: the rhythm of the music, the call and response of the songs, and the Ginga, the mobile guard of Capoeira that resembles dance steps. Capoeira is a delightful sight, fun, relaxing, and empowering. Check out this cool video of what Capoeira looks like: Capoeira is an energetic, the game or dance, played in a circle with musical accompaniment, in which two players try to take each other down, or otherwise dominate each other, whilst showing a mastery of movement. The players evade touching any part of the body to the ground excluding the hands, feet, and head. Becoming skilled demands long-term training. Full involvement requires learning how to play instruments, as well as learning the necessary movement skills.
Capoeira for Children
Family/Kids Class- Ages 5 to 11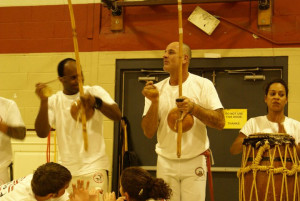 Capoeira is a community where all would be welcome…a place where I could raise my children and prepare them for life. A family. My son Daryl Jr. is a strong, very social, happy, well-adjusted child…I am grateful to our Capoeira Community for helping me raise my son in a positive and healthy environment. As parents we want to help our children grow, learn and develop. We want our children to gain experiences that will help them become productive members of society. Our goal is to help provide your child an environment where they can flourish and grow. Join our community and know that we will help your child develop healthy habits, gain confidence and self-assurance, as well as to make lasting friendships.
Help Your Child Build Good Habits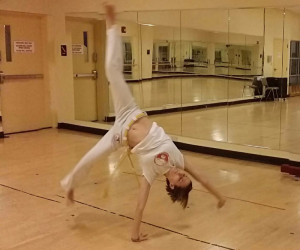 Every parent wants their child to grow up healthy and happy. We see Capoeira as a tool to create stronger, healthier, happier people. Training Capoeira will help your child develop healthy habits as they train and become more fit, flexible, stronger, and overall healthy. Try our Intro Program to see what Capoeira can do to help your child develop these healthy habits early in life. Get your child used to working out on a regular basis. We all know that kids who exercise do better in school, have fewer problems, release stress in a positive way, and are more confident and focused.