Learn Brazilian Jiu Jitsu | Beginner Classes
Brazilian Jiu Jitsu Fundamentals Classes |Baltimore Martial Arts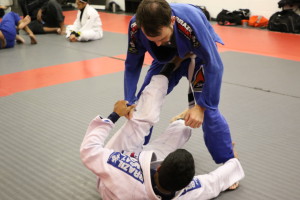 Learn the basics of Brazilian Jiu-Jitsu in our BJJ Adult Fundamentals Class. This class will teach you everything that you need to know in order to to be proficient in Brazilian Jiu-Jitsu. You will learn the techniques and skill sets that will prepare you for randori (wrestling) and in real life if confronted by an assailant.
Our Brazilian Jiu-Jitsu Adult Fundamentals classes are held on Mondays and Wednesday evenings from 5:30-6:30PM & also on Fridays from 6:30-7:30PM. 
The Whole Family Can Train at the Same Time!!!
Learn BJJ at the same time as our Kid's BJJ classes are being held. Our kids BJJ Beginner Classes are held on Mondays and Wednesdays at or around the same time, depending on your child's age, making it super convenient for the whole family to come train at our school at the same time. Mom's or Dads not interested in BJJ can take a Kickboxing Fitness Class upstairs from 5:30-6:30PM Mondays and Wednesdays or a Kettlebell Fitness Class from 5:30-6PM.

Simply click the "Register Now" link to schedule your first Adult BJJ Fundamentals class. If there are other classes or programs that are of interest to you please
CLICK HERE
for our more comprehensive online scheduler.
Ask us about our FREE 30 Day Trial
If you have a child that is being bullied or who is bullying others and you would like to discuss this matter in person, please feel free to call or email me, Gary Berger, owner of Baltimore Martial Arts & Fitness.
Baltimore Martial Arts Academy 6565 Baltimore National Pike, Catonsville, MD 21228
Looking for a map
? Walk in M-F, 4:30-9PM Saturday, 8:30AM – 12:30PM & Sunday 2-4PM Visit our You Tube Channel
{Baltimore Martial Arts You Tube}
. Email us at:
[email protected]