Event Space For Rent
Looking for the perfect event space for rent in Catonsville, Maryland? Look no further! Our premier event venue offers the ideal setting for your special occasion. Whether you're planning a Birthday Party, Kareoke, Dance Party,  Halloween Party or any other event, our 10,000 square foot event space in Catonsville is designed to meet your needs.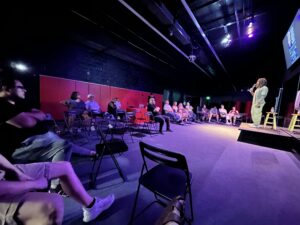 Why Choose Our Catonsville Event Space?
Prime Location: Located in Catonsville only a couple of miles West of the Baltimore Beltway, our event space is easily accessible and convenient for guests coming from all over the Baltimore area.
Versatile Spaces: Our venue boasts a variety of flexible event spaces, accommodating intimate gatherings and large celebrations alike. We have two large rooms. One is ideal for physical activities especially for kids. The other is ideal for social events or meetings. We also have a lobby, small kitchen and locker rooms.
Seating & Tables - We have at least four dozen folding chairs and plenty of tables should you need them.  We set up everything for you.
Modern Amenities: We offer state-of-the-art audiovisual equipment, high-speed Wi-Fi, and customizable lighting to enhance your event experience. We have a professional music & dance hall set up with laser lights, a disco ball and a variety of additional visual effects that will wow your guests.
Experienced Staff: Our dedicated event planning team is here to assist you every step of the way, ensuring your event goes off without a hitch.
Catering Services: We partner with top local caterers to provide a wide range of culinary options to suit your taste and dietary preferences.
Affordable Pricing: We understand the importance of staying within budget, and our competitive pricing packages make it easier to host your dream event without breaking the bank.
Book Your Catonsville Event Space Today!
Don't miss out on the opportunity to host a memorable event in Catonsville. Contact us today to inquire about availability, pricing, and to schedule a tour of our beautiful event spaces. Make your event unforgettable with our Catonsville event space rental.
Call us at 410-465-7799 and one of our representatives will put you in touch with our event coordinator. You may also email us [email protected]
We specialize in hosting children's Karate Birthday Parties. Please visit our Kid's Karate Birthday Party Page for more information.
Phot below shows part of our downstairs room that is ideal for children's events like birthday parties etc.