We are open!
As of November 16th all gyms in Maryland are in Phase 2 which essentially means that we can operate at 50% capacity. All staff members, visitors and participants must wear masks at all times while inside the building but if or when required, you may remove yourself from class or to a location inside the building that is away from other people to take your mask off to help with your breathing. Social distancing, washing hands & using hand sanitizer is highly encouraged. We will open doors, train outdoors and take whatever measures we can when appropriate to maximize everyones health and safety.
Much effort has been put into ensuring our school environment will be safe for our students & staff. Please read on for more details.
PREVENTIVE HEALTH MEASURES
Beginning Friday June 19th, all students, guests, and staff must wear a mask or facial covering at all times while not in class or in common areas (bleachers, front entryway, office, etc.) and at any time when 6 feet of social distancing may not be possible. Hand sanitizer will be provided at the front entry, and common touch points will be eliminated or disinfected continuously. Matts and equipment will be disinfected after each class. Students are strongly encouraged to wash hands when arriving for class and at the conclusion of class. As always, we expect our students, staff, and visitors to refrain from entering the school if feverish or ill.
CLASS SCHEDULES & RESERVATIONS
For the immediate future, it will be mandatory to reserve your space in both indoor and outdoor classes so that we can adhere to the occupancy limits as mandated by the state and to ensure we do not create a situation where social distancing is not possible. Class sizes will be limited to 10. To schedule your class, please view the MEMBERS ONLY WEB PORTAL located HERE. You must have a reservation to be admitted into class.
Please review the schedule posted at www.baltimoremartialarts.com as it has been updated.
ACCOUNT MAINTENANCE
All accounts that have been frozen will be re-activated beginning on June 19, 2020.
For a more detailed explanation of these updates, please visit our MEMBERS ONLY WEB PORTAL located HERE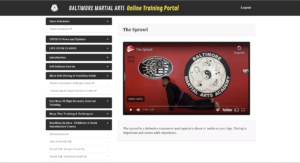 Al members with active memberships are entitled to access our BMAA Member's Only Web Portal. The members portal is a web page where you can get news, information, video instruction, dietary guidance and a host of helpful and interesting content. All of our online classes live on the portal so you can go back and watch workouts like HIIT, Grapple Fit, BJJ Zoom Chats, Fight analysis and much much! Please note that only members with active memberships are granted access to the portal. To request access please email us baltimoremartialarts@yahoo.com
ONLINE CLASSES ARE HERE TO STAY
During the COVID-19 lockdown we have been actively hosting classes online. These classes include Kids Kung Fu, Adult Brazilian Jiu-Jitsu, Grapple Fit and High Intensity Interval Fitness training. If you are still not ready to come back to classes you can watch and still participate virtually. Our mission is to continue hosting classes online including live streams direct from our facility as well as new programs that we are soon launching. Zoom login credentials are provided inside our Members Portal.
OUTDOOR CLASSES
Come join us for some parking lot fun. As long as you are socially distanced no mask is necessary but is still encouraged. You will still need to pre-register for any of these classes and space is limited. When BMAA officially opens up we will likely continue with outdoor classes weather and parking space permitting.
If you are a member or previous member of our school please visit and request to join or private Facebook Group Page. We are posting instructional videos, news and entertaining content daily. This is a great place to stay connected and get guidance on keeping your skills sharp and staying healthy.
Upon request, any tuition paid from April 16th, 2020 going forward may go towards time credit at the backend of your membership and any month to month agreements may be suspended or canceled. Your monthly contributions could mean the difference between our school re-opening or closing forever. We appreciate your support very much!
Here are a few suggestions that we have to keep safe and to remain engaged in your martial arts and fitness training.
STAY HOME 

BUT STAY ACTIVE

Our communities health is our #1 priority, but activating your body and mind will help you get through these troubling times.
STAYING OUT OF THE GYM =

MENTAL TRAINING

Exercise your brain, watch technique videos, perform mental reps, write out your game plan. Injuries don't stop the resilient and nor should this! Check out our live streams on our BMAA FB Page and on Instagram (@gft_maryland) that are planned for weeknight evenings. BMAA will be hosting guest instructors to teach and discuss techniques and strategies for both children and adults to stay fit and engaged while at home during this crisis.
GENERAL POLICIES
Baltimore Martial Arts Academy is typically closed for major holidays that include but not limited to Christmas Eve, Christmas Day, New Year's Eve, New Years Day, Labor Day, July 4th & Memorial Day. When in doubt please call us at 410-465-7799 and/or check here for updates.
Baltimore Martial Arts typically follows the Baltimore County and/or Howard County public school system concerning closing due to inclement weather. Please call us, check this board and refer to the BCPS web site for school closings.
PARKING ALERT
Parking is not allowed on our neighbors property soon to be titled the Kay Plaza. Please be mindful of any no parking signs along the new building and especially on the hillside adjacent to Midas. You may park in any spaces that are directly against our building and also in the large parking lot that is accessed by driving behind the Midas building. Parking is also allowed in the Midas parking lot after 7 PM but please make sure that you DO NOT BLOCK THE MIDAS ENTRY WAYS. Your car will be towed by either Midas or the owner of the adjacent property if your car is parked in an unauthorized location. Baltimore Martial Arts will not be responsible if your car is towed.