Baltimore Martial Arts Kids Karate Birthday Parties are a FUN, EXCITING and UNIQUE way to celebrate your child's birthday! Your Karate Birthday coordinator keeps all the children entertained while teaching them cool martial arts skills. We play Karate games to build confidence, teamwork, and concentration. Your child and their friends will break boards, earn their karate belt, win stickers, adorn tattoos, eat pizza and sing happy birthday. Some of our activities include relay races, obstacle courses, ride the bull, black belt helicopter, musical chairs & the Limbo. Your child will smile with confidence as they celebrate their special day with us at Baltimore Martial Arts.
"Instead of planning and preparing everything for my child's birthday,
I was actually able to relax and enjoy my child's birthday party without doing all the work

! My son had so much fun with his friends.

Having a Karate birthday event like this was special and something that my son and I will always remember

!"

Karate Birthday Party Package
1 1/2 Hours
Party coordinator & assistant
Main room (3000 sq. ft.) & sound system
$349 for up to 15 kids (10 Children Minimum)
$19 each additional child
Three pizzas & juice ($20/additional pizza)
Place settings, cups, and napkins provided
All non-Baltimore Martial Arts Karate members earn 1 FREE Weeks of karate lessons!
Each child will break a board
Parent provides birthday cake and candles
Additional time can be arranged at $49 per half hour
Click Here For More Info
Our Karate birthday parties are hosted by highly trained professional martial arts instructors who teach your child and their friends a very fun and enjoyable class. After the physical activities the children are served Pizza and Drinks, provided by us! Once it's time for the birthday cake, your birthday child will even get to cut the cake with a real Samurai Sword! (With our help of course!)
At the end of the party, all children in attendance will be given a coupon which may be redeemed for one FREE Week of Martial Arts Lessons. Moms and Dads are also welcome to try our martial arts and fitness programs! Make sure you don't miss out on the fun!
Karate birthday parties at Baltimore Martial Arts are sure to be an experience your child will never forget. Give us a call today to reserve your child's karate birthday party.
If you would like to purchase and book your event now please clink the link below and save $20. Afterwards you will be prompted to call one of our event coordinators who will assist you with scheduling your event. Enter code
SAVE20
to save $20 off your cost for registering online.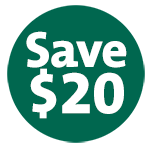 Call 410-465-7799