Catonsville Kickboxing Classes Thursdays
Kickboxing Classes
Baltimore Martial Arts and Fitness has added another day and time to its Kickboxing Classes on Thursday evenings 6:30-7:30PM. Thursday night kickboxing class will be taught by Sue Rexford, CPT, HKC and Sensei Gary Berger.
Our Kickboxing Classes are tough workouts which are as close as it gets to real kickboxing but without the sparring. Most of our kickboxing classes are partnership based where one person is punching and kicking while the other is holding kicking shields, focus mitts or heavy bags.
Make no mistake, this is not Kickboxing Aerobics. In our kickboxing classes you will punch, kick, and knee targets as hard as you can while learning safe and proper technique. Proper form is important because when you move right you can express your power more efficiently and get more out of your kickboxing workout. Not to mention you will be learning an effective means of self defense.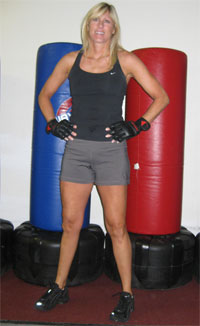 Baltimore Martial Arts has been teaching realistic kickboxing classes to hundreds of individuals since 1995. Sue Rexford, the instructor for Thursday night's Kickboxing class, was a student in our kickboxing program for years. She became so proficient at kickboxing that she went on to compete in a full contact kickboxing tournament. L.A. Brickner was another woman who trained in our kickboxing fitness program and also went on to compete in full contact kickboxing.
If you are looking for a workout that will challenge you like no other, come try our kickboxing classes. We offer a great deal where you get three kickboxing classes and a pair of real kickboxing gloves for $19.99. Check out our special offer below which you can register for here.
Kickboxing Classes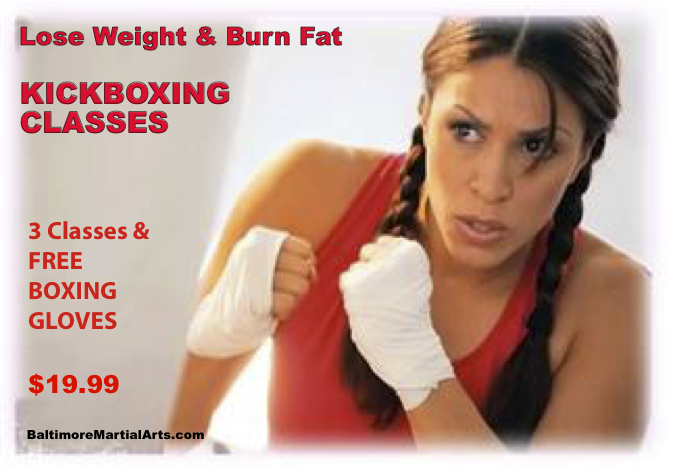 Special Offer
Try three kickboxing classes and also receive a FREE pair of boxing gloves for only $19.99. Simply click the picture to the left to register. This is a great way to sample our kickboxing program and to see what other fitness and martial arts classes that Baltimore Martial Arts in Catonsville has to offer.

Kickboxing Classes
Our kickboxing classes service the Baltimore County, Baltimore City, Catonsville, Elkridge, Columbia, Ellicott City and surrounding areas. We have kickboxing students from Pikesville, Carrol County and even Frederick. We once had a Groupon student come all the way from the Eastern Shore. She didn't end up enrolling and we never found out what happened to her, but the fact that someone was wiling to travel that far to workout with us was amazing.
Baltimore Martial Arts has an A+ rating with the Better Business Buerau and a perfect 5 Star rating with 30 reviews on Google. Come check us out! - You wont be disappointed.