Ford E350 15 Passenger Van For Sale 2012- 5K Miles – Extended Warranty – Mint Condition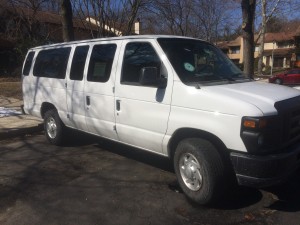 2012 Ford E350 15 Passenger Van for Sale
This van only has 5K miles and is in Mint Condition!!!
This is the PERFECT vehicle for a Church or school!
100% Reliable with No Problems!
Click
HERE
to see the Crag's Listing and additional pictures of the van.
I originally bought this van to transport children for an Karate After-School program at my Karate School. Due to personal reasons I had to discontinue this program over a year ago and the van has basically been sitting ever since.
I am willing to drive this van to you or travel half way if necessary depending on how far.
I currently owe $21,015 on it as of 1/12/15 and I'm willing to eat a $1,000 on it to get rid of it.
Please do not call me to rent this vehicle.
The van has a transferable extended bumper to bumper warranty: 36,000 or 3 Years 5 Year or 60K Power Train 5 Year or 60K Roadside Assistance
If interested please contact me via email Email:
[email protected]