Christina L. Salmond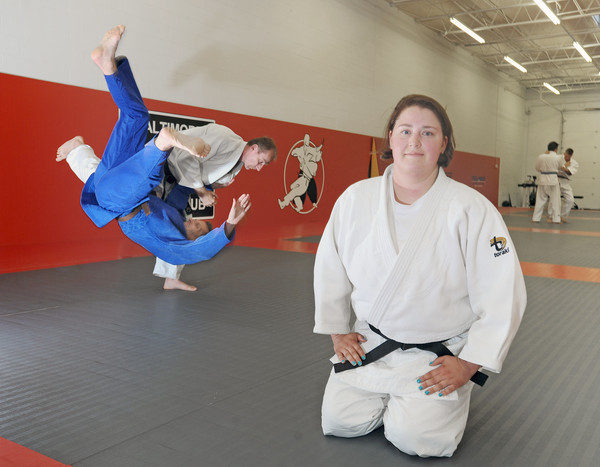 I started judo under the tutelage of Sensei Ken Tamai when I was about seven years old. About a year after starting, I competed in my first tournament and although I lost every match, I fell utterly in love with the sport of judo. As a senior in high school I was able to claim my first national level prize: silver at the National Championships. After that, I stopped competing for many years while I pursued my career in video editing and graphic design, which has since landed me in information systems field.
When I returned to regular judo training with the Baltimore Judo Club, within two years I managed to score a bronze medal in the Senior Elite division and a gold medal in the F1 Master's division at the Senior National Championships. Ranked among the top three in my division in 2011 and 2012 allowed me to compete representing the USA at the Judo World Cup in Miami where I competed against some amazing athletes including the 2012 Olympic Judo gold medalist Ortiz of Cuba. I still compete regularly at tournaments along the east coast and continue to train to meet my potential as an international shiai competitor. I also compete in Nage No Kata (forms of throwing) with my kata partner at regional competitions and received two gold medals and one silver medal so far.
I started assistant teaching as a junior ikkyu (purple belt) at the Tidewater Judo Club in Virginia when I was only 14 years old, and have enjoyed sharing my love for judo ever since. Currently, I am a USA Judo certified level-C judo instructor and state level judo coach and I attend referee, examiner, and kata clinics one or more times a year. While nothing meet the exhilaration of the competition mat, I happily teach judo for the Baltimore Judo Club alongside Sensei Charles Peters.
The founder of judo identified the principles of judo as: "maximum efficiency with minimum effort" and "mutual welfare and benefit."I take these principles to heart, as do all students of judo, and I keep them always in mind. My Sensei believed that fundamentals were the most important: how to brave a fall correctly, maintaining balance; and everyday that comes through in how I understand judo as well as life. What my personal experience has taught me is that to survive in this sport a person must develop endurance and humility; to thrive requires focus and adaptability; to excel takes practice…lots and lots of practice. So whether it is class, competition, or life in general; my approach generally an extension of Sensei Kano's principles, Sensei Tamai's focus, and my own three small words: Survive, Thrive, Excel. As cliche© as it sounds, judo is a way of life; a way that I'm proud to share with anyone who has the courage to try.
Christina Salmond, Olympic Hopeful for Baltimore Martial Arts and The Baltimore Judo Club in Catonsville, MD.
First degree black belt in judo
USA Judo Certified Judo Instructor and Judo Coach
Active international level shiai competitor and regional level kata competitor
Represented the US at the USA Judo World Cup (2011, 2012)
2011 #1 Ranked National Master Athlete (F1 78kg)
Nationally ranked among the top five in the Senior Elite Females division +2 years
+12 years of judo experience